We know that emergencies happen and they can't always be predicted. We are here to help!
If you are an established client and have an emergency that cannot wait until regular business hours, please phone the clinic at 780-786-2000. Our answering service will connect you with the on-call veterinarian as soon as they are available. Please keep in mind we are not a 24 hour clinic, meaning we are not staffed outside of our regular business hours. For non emergencies, please call during business hours (8:30 am - 5 pm Monday - Friday and 9 am - 1 pm Saturday). Non-clients are encouraged to contact their regular veterinarian or seek care at the nearest 24 hour emergency clinic (see options below).
Ambulatory services are available for large animal emergencies that cannot safely be transported to the clinic and are within our service area.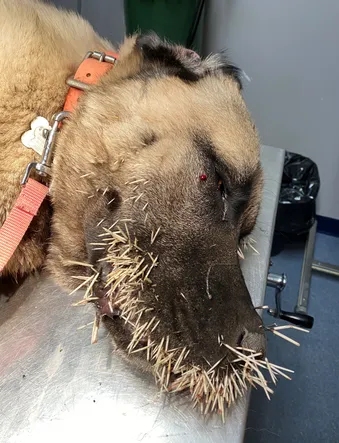 After Hours Emergency FAQ's:
What if I'm not sure my pet's situation is an emergency?

If your animal has an acute (sudden onset) or rapidly worsening condition, or is in distress, please phone. The on call veterinarian will discuss the situation with you over the phone, get more specific details, and make recommendations on when to have your animal seen.

Common small animal emergencies:

Hit by car or other traumatic injuries, including fractures
Urinary blockages (especially in male cats)
Bite wounds and lacerations
Porcupine quills
Dystocia (complications birthing)
GDV and bloat
Parvovirus
Medical crisis (diabetic crisis, seizures, etc)

Common equine emergencies:

Colic
Choke
Injuries
Foaling complications

Common large animal / production animal emergencies:

Calving, lambing, and kidding issues
Uterine prolapse
Bloat
Herd health outbreaks

I've phoned and spoken with answering service but the veterinarian hasn't phoned me back. What do I do?

We do our best to speak with all potential emergencies right away. However, please keep in mind there is only one of us and we may be tied up with another emergency. If we can stop what we are doing to speak with you, we will. If however we are in the middle of a life or death situation, in surgery, or on a farm emergency where there may be limited cellular coverage, we unfortunately won't be able to speak with you right then.

If you haven't heard back from a veterinarian after 15 minutes in the event of a critical emergency (serious hit by car, diabetic crisis, seizure), 30 minutes in the event of a time sensitive emergency (calving, uterine prolapse), or 45 minutes for a non life-threatening emergency, please phone back.
Is there a vet at the clinic around the clock?

No. Outside of business hours we try to tend to our own personal and family obligations just like you. We do however have a veterinarian on call in the event of an emergency. If the veterinarian deems that your pet needs to be seen, they will arrange a time for you to come. Please phone BEFORE driving to the clinic as no one will be there if you haven't phoned ahead and your appointment time will depend on the vet's other pending emergencies.
For our Edmonton and urban clients, please keep in mind that we are not a 24 hour emergency clinic. We offer on call emergency services due to the rural nature of our practice. While we are always happy to help you when possible, we operate differently than an emergency clinic with a fully staffed ER. It's therefore important that you phone ahead prior to showing up so we know to expect you.
Will anyone be with my animal overnight?

No. If the veterinarian deems that your pet needs constant monitoring, or you prefer that your pet be in a fully staffed emergency clinic, we are happy to refer you to an emergency clinic in Edmonton:

Small animal and exotic pets:

VCA-Guardian Veterinary Centre in Edmonton 1-780-436-5880

Pulse Veterinary Specialists and Emergency in Sherwood Park 1-780-570-9999

Boreal Veterinary Centre in Edmonton 1-780-306-4400
Edmonton Vet ER 1-825-480-4881

Equine:




Delaney Veterinary Services 1-780-922-3647
Westhills Equine Veterinary Services 1-780-898-9267
Are there extra fees to have my animal seen after hours?

Yes. Additional after hours fees do apply for our veterinarian to come in to tend to your animal outside of business hours. This can be discussed in more detail with the on call veterinarian.
For after hours emergencies we require payment at the time of service. If you have concerns about cost, please don't hesitate to ask the on call veterinarian for a price estimate prior to bringing your pet in.